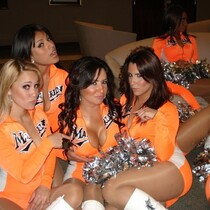 Posted March 3rd, 2014 @ 9:33am
1) Astros Spring Training Games take over most of my time slot. I might be on today if the game is a quickie. Today they play the Marlins.
2) The best in the 70's..
These are the Bucs unis for 2014. Horrid...
3) Ok...maybe I watch a Bucs game next year..
4) Poor Tiger...bad back..
Lindsay likely gave him a massage..
5) I didn't watch more than 10 minutes of the Oscars. I did see this and I hate these people..