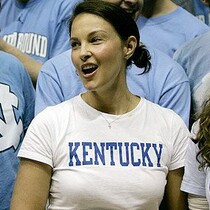 Posted March 31st, 2014 @ 9:34am
1) Congrats to the Harrison Twins from Ft. Bend Austin and their upcoming trip to the Final Four. I wonder if my girl Ashley Judd is headed to Arlington....uh I mean North Texas.
2) Congrats I guess on your win Saturday over the Rockets. Yes I want no part of your team come playoff time..
3) Come back soon please...
4) Saturday Night Live has been a major disappointment this season. I did however find this funny over the weekend..
5) Guess whose team is in town tomorrow night? Hers...