1) With the Marcus Smart and Michael Sam stories being discussed. I feel like I'll be talking sociology than bracketology..
2) Jeff Orr...you're still a d-bag...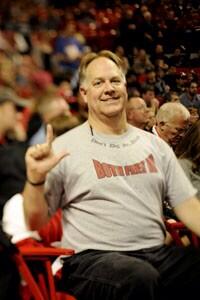 On the other hand, I find you delightful...
3) This again is Julia Mancuso. She apparently is doing well in the Olympics. In what I don't have a clue...
4) Rockets play at Minnesota tonight looking for their 6th straight win...here is the team practicing yesterday.
5) I watched the 50th Anniversary of the Beatles on Ed Sullivan Show. CBS won't let me embed from it. My favorite was hearing Stevie Wonder sing this...here's a video from 2010...

Hey it's your favorite major market radio host! Thanks for coming to my webpage.

I keep busy around here. Besides talking with you daily, I also host the Astros pre- and post-game shows during the week, and you'll also often hear me doing the same for our Rockets coverage.

I also call play-by-play for University of Houston basketball and host the Tailgate show for football. In addition, you can catch me weekly on Comcast Sportsnet Houston's "SportsTalk Live."