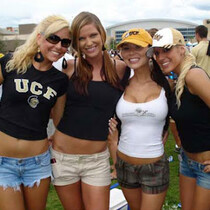 Posted March 7th, 2014 @ 8:41am
One more day for me from Orlando. Calling UH vs UCF hoops on 950 KPRC tonight at 5:45. I like what I've seen on the UCF campus..
D of the Week!
Rockets vs Pacers tonight. Sorry young lady.....the Rockets want some revenge for an early defeat in Indy..
Is Vick asking Matty..."How's Houston?"
Lastly I am taking to the family to Dallas Saturday for a rare hockey game. Mike Modano's jersey is being retired. Mrs. Thomas likes Mr. Modano. I am a fan of his ex-wife Willa Ford..