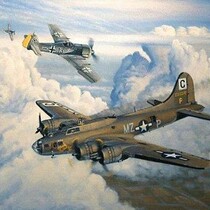 Posted March 12th, 2014 @ 7:54am
Quite a sight flying into Houston's Ellington Field for the next couple of days…. A "Flying Fortress" , the WWII -era B-17 bomber and a B-24 Liberator are traveling the nation with the Collings Foundation Viet Nam Memorial Flight collection of a TA-4 Skyhawk, F-4 Phantom, F-100 super Sabre and Huey helicopter.
It's the "Wings of Freedom" tour and Houstonians can get an up close and personal look at these historic aircraft, plus for a certain fee, not cheap though, a 30-minute flight aboard.
Have to wonder what my late Uncle Freddy would think of that. He was a navigator on a B-17. That's what the tour is about, a flying tribute to those who flew them, the ground crews who maintained them, the workers who built them, and all of us….who share the freedom they helped preserve.
Wings of Freedom March 12-14 at Ellington Field.